Restaurant Es Castell
Spanish & International Cuisine
In Es Castell kitchen our chefs are using only seasonal ingredients from local providers and selected international products. Surprise yourself with creations such as "King prawn cocktail with pineapple in vanilla flavours and cocktail sauce spheres" or the outstanding "Lamb lasagne, goat milk bechamel and cardamom with roasted aubergine".
Guests of our restaurant can expect an excellent range of Spanish and international delights. Weather you prefer an "Iberian pork sirloin marinated in sobrasada, Mahones cheese sauce" or a "Cardinal prawns noodles paella with saffron ali oli", dining at the Restaurant Es Castell is an experience. The fantastic view on the bay of Palma can only be enjoyed at the gourmet restaurant Es Castell in Majorca.
THEMED NIGHTS
Be surprised by the exceptional flavors at Restaurant Es Castell. Enjoy a variety of dishes from our buffets, all made with an exquisite selection of indigenous and seasonal products.

Wednesdays: Majorcan Buffet
Saturdays: Fish & Seafood Buffet

Price per person EUR 55
(Beverages not included)
Reservations: +34 971 493 493
RESERVE A TABLE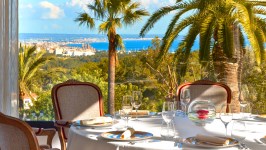 To reserve a table online by using the calendar on the right
OPENING HOURS:
Breakfast: 7:00 to 11:00 hrs.
Lunch: 12:00 to 16:00 hrs
Dinner: 19:00 - 22:30 hrs